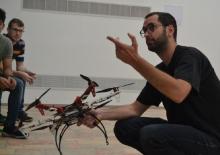 Welcome in CTU Drone Academy again - the registration is open HERE.
You can improve your flying skills, try flying with glasses and enjoy indoor and outdoor flying lessons under the supervision of CTU Drone Academy instructors. 
Moreover, there are planned hands-on courses + many things to enjoy drones.
More information about CTU DA and its activities are HERE.