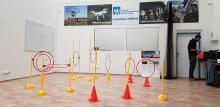 Dear students,
the registration for Spring semester 2018/2019 has been already closed. If you are still interested please let us now via email and we will do our best to put you in. This semester our lecturers  will improve flying skills of attending students and will teach how to fly with FPV glasses. We have prepared an arena for precise skills training to practice indoor flying, but later on it is prepared to go outside to get experienced in outdoor environment. All flying lessons are held under the supervision of CTU Drone Academy instructors. 
Nevertheless, if you cannot make it this semester, get READY for new Winter semester 2019/2020. :) The registration will be open again.
More information about CTU DA and program of flying lessons are HERE.